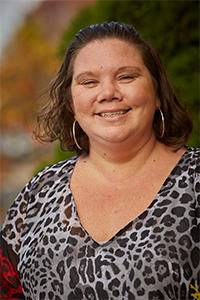 Larissa Ruffin, House Manager
After graduating from City High in Iowa City in 1996, Larissa ended a long period of what she describes as bad life choices with a prison sentence from 2004 to 2006. Upon her release, she started on a new path, earning a degree in criminal justice at Kaplan University in 2008, followed by jobs at the Willis Dady Emergency Shelter and AmeriCorps, and volunteer work at the Catholic Worker House. When the CWH lost their house manager, she applied, and started working in September 2009. She lives at the house with her husband Carl, along with one of his four children and a niece.
Because of her background, she's able to connect with and help people that are where she was – just out of prison, facing eviction, homeless, or in a similar hardship situation. "Being able to show compassion and listen with empathy – that's huge for me and for them. My goal is to help them find a way out and see that the current situation is not the end – that even prison can be just a step to making life better, not the end of the road." She loves being able to help people of all religious beliefs and backgrounds. Her biggest reward is when a client is able to go home.
Larissa spends her days leading a staff of three, coordinating numerous volunteers, working with current, new, and past clients to make sure their needs are met, writing grants, and doing presentations at churches to share the CWH mission.
Jasmine Conwell
Jasmine first came to us in the fall of 2016. When Jasmine joined us she was working with the Kirkwood program-Creating Futures. Jasmine was also just returning to work after having her son Kaiden that summer. Jasmine not only completed her internship, she also completed the work study portion and then was hired on as a CWH employee in 2017. We are very thankful for Jasmine and Kaiden and glad they have joined our staff and family! Jasmine plans to continue her education and go on to study Social Work in the near future.
Our Board Members
The Catholic Work House (CWH) Board of Directors is made up of a dedicated team of community members that work passionately to support families in getting their lives back on track.
"I am proud to be associated with the Catholic Worker House because of the helping hand up it offers families in times of great need. The Catholic Worker House is so much more than just a homeless shelter! The most rewarding aspect of being on the Board of Directors of the Catholic Worker House is to continually relearn just how much of a difference providing shelter and food for a family can truly be in restoring hope to all that the future can and will be better." – Robert B. Callahan, Former Board Member